If you've ever traveled a long distance with an animal, whether by car or by plane, you know that it's not an easy feat. Traveling with dogs is tough!
Having recently driven 2000 miles with our two Chiweenie pups, I relied often on my "doggy bag" filled with all of the essentials in one convenient place. I am usually not very organized and terrible at packing, but I knew that if I didn't have a travel bag prepared for Teddy and Freddy, the trip would be more stressful and difficult than it needed to be.
Whether you are going for a quick overnight trip or a cross-country road trip like we did, having a well-packed doggy travel bag is essential. Check out my packing list below!
I packed everything in an athletic duffle bag (the Reebok ONE duffle bag). I like the Reebok ONE duffle bag because it has lots of interior and exterior pockets to make things easily accessible.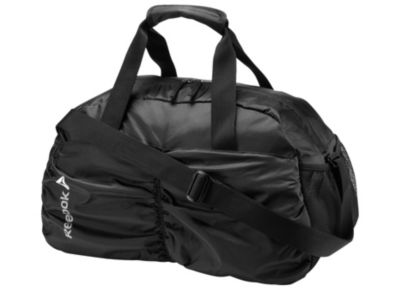 It's big enough to carry all of the essentials, but small enough to fit next to your feet in the passenger seat of a vehicle or as a carry-on on a plane.
If you have a baby bag on hand, that would probably work just as well.
Because Teddy and Freddy are puppies, they LOVE to chew on pretty much everything. I packed some of their favorite toys of various textures and types, such as rope toys, squeaky plush toys, and toys to throw and play fetch with at rest stops. I never give them all of their toys at once, I prefer randomly introducing and taking away toys so that there's always something "different" and they don't get bored. I get most of their toys from BaxterBoo.com, because they have a great variety and are super cheap!
For any dog in the potty training process, treats are a necessity! Because of the change in routine (I couldn't just open the door and let the pups go in the yard when they had to pee), I knew it would be tricky to avoid accidents when we were at the hotel. I use the treats to reward them for going potty outside (or on their fake grass pee pad when indoors).
As for their meals, my dogs currently eat FreshPet Select dog food, which requires refrigeration.  If your dog eats dry food, I recommend dividing it up into daily ziploc baggies or tupperware containers. If it's canned food, you could just toss the cans into your doggy bag. I do have to say, it was SO annoying having to keep my pups' food refrigerated at all times during our 3-day, 30 hour road trip.
I also like to carry a sample sized bag of Sojos freeze-dried dog food, even in my purse when we are just going somewhere for a few hours, because it is super portable and great for travel. It's perfect as a back-up in case you get stuck somewhere unexpectedly during doggy mealtime. For the pouch-sized portions, all you do is pour 1/4 cup of water over the freeze-dried food, wait a few minutes, and BAM—instant meal! It honestly smells so good too, by far the best smelling dog food I've ever smelled!
Because my dogs are pretty small, I bring along a tube of a calorie booster. Calorie boosters are great for finnicky eaters while traveling, because they provide the necessary calories and vitamins typically found in dog food. 
Small dogs are prone to hypoglycemia (a drop in blood sugar), and these calorie boosters are a quick way to help the dog bounce back and potentially save their life.
You can find calorie boosters at Petsmart in the Health & Wellness section and the New Puppy section.
3. Harnesses/Collars and Leashes
I use an external pocket for the harnesses/collars and leashes, for easy access. Pretty self-explanatory…obviously if you are going anywhere you will bring a collar and leash for your pup.
Don't forget the poop bags as well!
Having a portable water source is very important! Especially during summer months!
I use this Top Paw travel water bottle from Petsmart because it's super convenient and easy to use in the car without spilling! I also like that it has a clip on it, so I can just clip it to the strap of my doggy bag, for easy access.
Whether it's puke or poop, in the hotel or in your car, if your dog makes a mess, you'll need supplies to clean it up! I packed a roll of paper towels, a travel size package of baby wipes, and a bottle of Simple Green Oxy Dog Stain & Odor Oxidizer.
This stuff works on carpet, tile, wood, upholstery, pretty much anywhere your dog can make a mess. I've used MANY different brands and types of stain/odor removers during my dogs' potty training phase and this one has been the best BY FAR. 
I can't take it in the doggy bag when I fly with the pups (TSA guidelines), but I plan on bringing it along in my checked luggage!
I also included one more thing in the "clean-up supplies" category, mostly because it prevents me from having to clean up a potential mess: belly bands. Belly bands, or doggy diapers for female dogs, are great for long road trips where you might not be able to stop and take breaks very often. For male dogs, the belly band wraps around the dog's belly and covers it's wee-wee. If your dog attempts to pee, it will absorb into the band—mine holds a women's maxi pad cut in half. Other versions contain an absorbent gel, and you toss it in the washing machine in between uses. I bought mine on eBay, but they sell versions at Petsmart and other pet supply stores as well.
I brought along my dogs' "cave" bed and an additional pillow to lay on while in the car.  We put the beds on the center console, in between us. Teddy and Freddy usually end up laying next to each other, but sometimes they like to be apart, so I wanted to provide two different laying options for them. Depending on your dog's size, bringing a dog bed along might not be a possibility (especially when flying), but at least try to bring a comfort item like a blanket or a roll-up mat for them to lay on.
That's about it! What do you think? Are there any additional items you recommend for doggy travel? If so, leave me a comment and let me know!